Groundworks' equipment is available by appointment only.
To schedule your appointment, visit the 1-1 appointment or open hours reservation pages.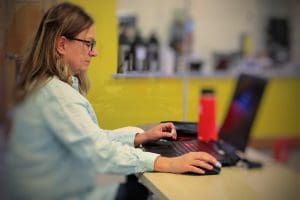 Each of Groundworks' laptops are equipped with the Adobe Creative Cloud, 3D modeling and digital conversion software. Laptops are for use on the lower level only and cannot be checked out. A valid library card is needed to sign in.
Podcast/VHS Conversion Station
This station is dedicated to podcasting, audio recording and converting VHS cassettes to DVD or digital files. It does not have Adobe Creative Cloud software.
Click on the blue buttons below for equipment specific information.