HDL's Library of Things contains all kinds of items to help you connect, discover, and create.
To check out an item from the library of things you'll need to:
Be 18 years of age or older with a HDL card in good standing
Accept the terms and conditions of the HDL Things borrowing agreement signed at the time of checkout
Checkout no more than three Library of Things items at a time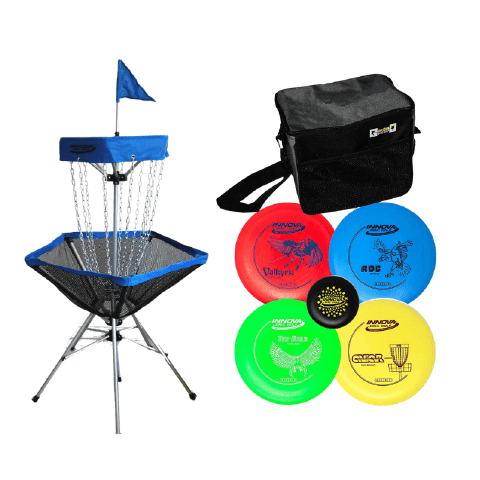 Innova DISCatcher Traveler Portable Disc Golf Basket
Discatcher Flag
5 metal stakes with sleeve
Golf basket carrying case
4 Golf Discs (distance driver, fairway driver, mid-range, putter)
1 Mini Marker Disc
Zippered storage case
Disc golf is similar to traditional golf, but players use discs to aim for a basket which is a pole extending up from the ground with chains and a basket where the disc lands. Complete each hole in the fewest number of throws, starting from a tee and finishing with the disc landing in the basket. Generally, a course is made up of 9 or 18 holes. The player with the lowest total cumulative throws wins.
Documentation & Resources
HDL Print & Digital Library Resources
Check out the Disc Golf Topic Guide to start your search.
Internet Resources
This item is available for check out to HDL cardholders age 18 and older. Borrowers must sign the required Library of Things Agreement acknowledging financial responsibility for lost or damaged equipment.