HDL's Library of Things contains all kinds of items to help you connect, discover, and create.
To check out an item from the library of things you'll need to:
Be 18 years of age or older with a HDL card in good standing
Accept the terms and conditions of the HDL Things borrowing agreement signed at the time of checkout
Checkout no more than three Library of Things items at a time
IdentiFlyer Lyric Bird Song Identifier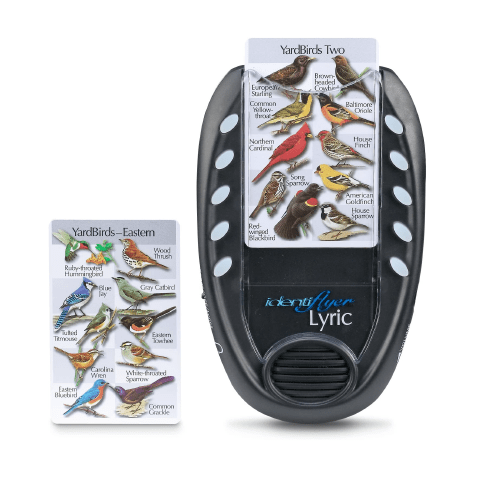 IdentiFlyer Lyric Bird Song Identifier
Yardbirds Song Cards
(Yardbirds 1 & 2 and Eastern & Western Yardbirds)
IdentiFlyer Lyric 2 Super Song Cards
(Raptors and Frogs & Woodpeckers)
IdentiFlyer Lyric 3 Super Song Cards
(Forest, Field & Meadow, Forest Edge, Lakes & Rivers, Marsh & Wetlands, and Birds of the Night)
IdentiFlyer Lyric Carrying Case
Waterproof zippered pouch
Providing a fast, simple approach to identifying bird songs, the IdentiFlyer Lyric lets you hear the bird's name, a verbal description of the song (lyrics), and the song itself. The "Learning Lyrics" utilize memorable words and phrases that help you connect a particular tune to the corresponding bird. Pictures on the cards also help in identification. The speaker provides rich, crystal-clear sound, and a kick stand allows for easy setup.
Don't forget to check out the Library of Things Wildlife Viewing Kit to help you get started viewing and identifying flora and fauna throughout Michigan.
Documentation & Resources
This item is available for check out to HDL cardholders age 18 and older. Borrowers must sign the required Library of Things Agreement acknowledging financial responsibility for lost or damaged equipment.