HDL's Library of Things contains all kinds of items to help you connect, discover, and create.
To check out an item from the library of things you'll need to:
Be 18 years of age or older with a HDL card in good standing
Accept the terms and conditions of the HDL Things borrowing agreement signed at the time of checkout
Checkout no more than three Library of Things items at a time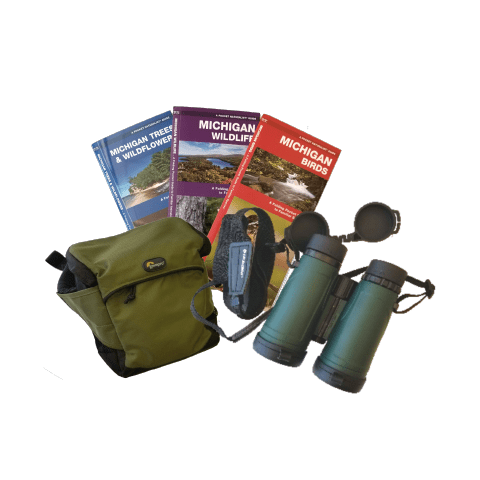 Celestron Nature DX Binoculars
Rainguard (1); Lens caps (2)
Birds of Michigan Field Guide by Tekiela, 2nd
Michigan Trees & Wildflowers pocket guide
Michigan Birds pocket guide
Michigan Wildlife pocket guide
Binoculars user manual
Carrying case
This wildlife observation kit contains a pair of Celestron Nature DX binoculars, the Birds of Michigan Field Guide, and a set of three laminated wildlife-identification guides. The binoculars are water- and fog-proof, eyeglass friendly, and prefect for beginner and intermediate wildlife enthusiasts. Use the accompanying guides to identify Michigan wildlife.
Don't forget to check out the Library of Things IdentiFlyer Bird Song Kit to help you identify and learn the calls and songs of the most common birds in North America.
Documentation & Resources
This item is available for check out to HDL cardholders age 18 and older. Borrowers must sign the required Library of Things Agreement acknowledging financial responsibility for lost or damaged equipment.