If you're an avid library user who loves audiobooks, you're probably familiar with the various ways that you can get electronic audiobooks from the library, like Libby and Hoopla. Audiobook CDs are even an option for you and your kids! Audiobooks can be great for kids because following along visually while listening to the audiobook can increase word-recognition and expand vocabulary. That is, if you're lucky enough to be able to get both at once!
One great resource the library has for kids to help with this are audio-enabled books. These are books that have the audiobook built right into the book, meaning you can bring these books wherever! They don't require internet, and even have a headphone jack built in, so kids can listen to these books anywhere. We have something for everyone!
Searching for Audio Enabled Books
Finding these books in the current catalog can be a little tricky, because the collection is constantly updating. But there is a way that you can save the search in your library account! Just follow these steps, and you'll have a list that you can always go back and reference if you're curious what's new in the audio enabled world.
1. Login to your library account (the same account you would use to place holds online).
2. Once you're logged in, click on this permalink: https://herrickdl.bibliocommons.com/v2/search?custom_edit=true&query=audio-enabled+read+along&searchType=bl&suppress=true
3. When the link opens, you'll see a "Save Search" in the upper right corner, above where the list of books stars. Click on this to save the search. It will prompt you to provide a title for the saved search, so feel free to rename the search if you wish.
4. To get back to your saved search in the future, you'll want to click on your username in the blue box in the upper right corner to trigger the drop down menu. Select "My Settings" at the bottom of the drop down menu.
5. In the "My Settings" page, you'll notice a "Saved Searches" option on the left-hand side of the page under "Account Preferences." Click on that to see your saved search, and it will re-populate with any new materials we have added since the last time you completed a search.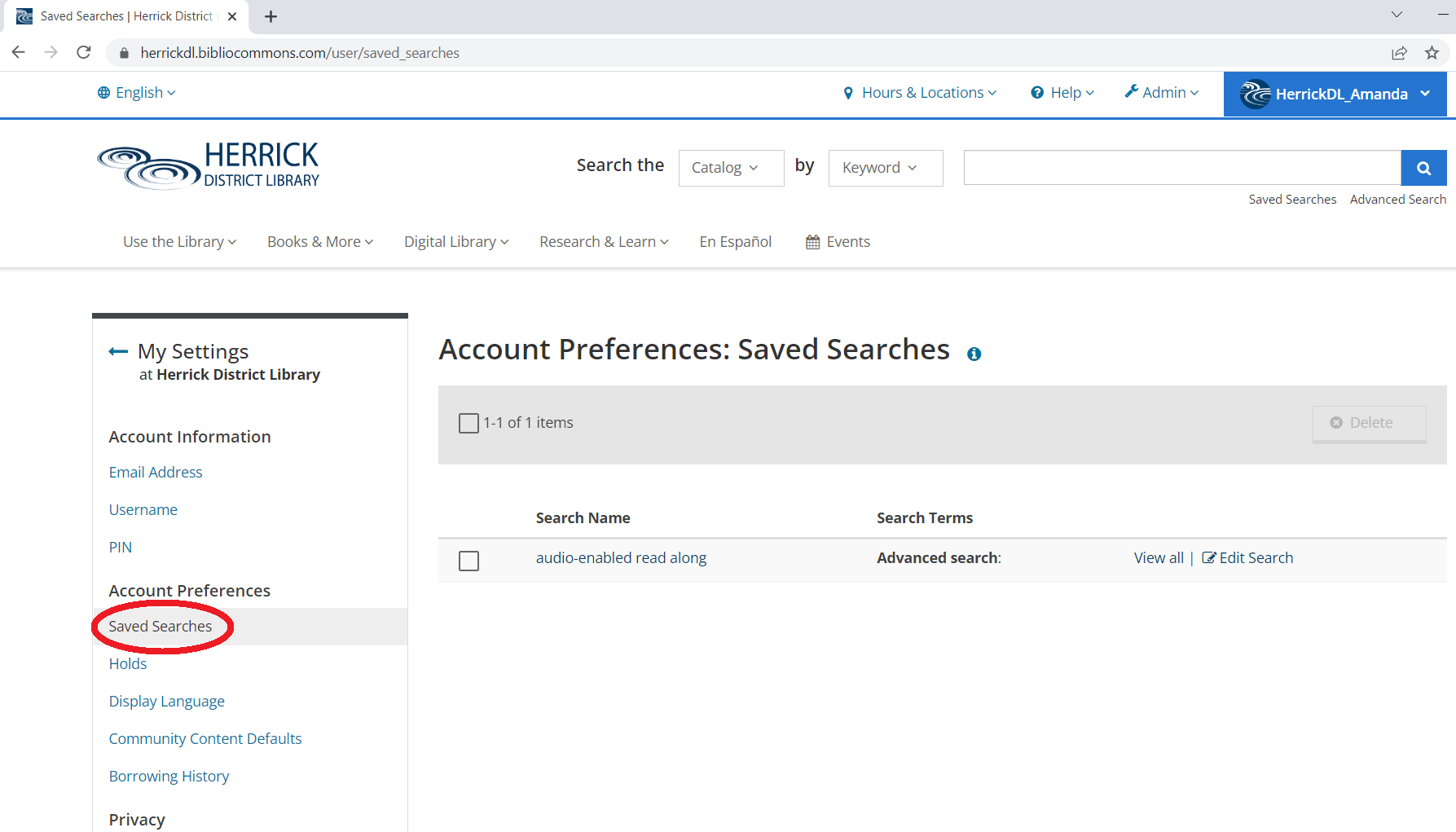 Hopefully this helps in finding some new audio enabled books to check out! It's definitely one of our most popular collections!