I entered the audiobook world when I was a small kid. Road trips in the car became enhanced by the strange cassette tapes my parents played. I listened intently and tried to
understand the jokes that made them cackle. After a while, I gave up and just enjoyed the storytelling. Instead of loathing the long drive to grandma's house, I was transported to Lake Wobegon and began mingling with all the peculiar residents. I now know we were listening to A Prairie Home Companion. I can still hear the way Garrison Keillor told those fanciful tales.

Now working at a library, I would love patrons to connect with the magical storytelling abilities of audiobook narrators. The perfect place to begin would be with the award winners. Yes, audiobooks win awards! The Audiobook Publishers Association has been holding the Audie Awards since 1996. They cover all genres of audiobooks as well as audiobook of the year, best multi-voiced, Spanish language, original works, and many more.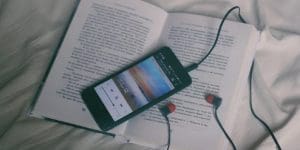 Find Audie Award winners in our catalog by going to herrickdl.org > Books & More > Awards, then choose Audie Awards under Books. Herrick has many audiobooks available in different formats. We still have audiobook CDs as well as digital audiobooks available on Hoopla and Libby. Ask us at the Information Desk how to get started.