Have you tried Kanopy yet? This free online streaming service features classic movies, documentaries, instructional videos, arthouse films, and today's subject: world cinema. Because Kanopy's catalog isn't searchable through our website, it can be easy to miss out on the wealth of content Kanopy has! 
One of the easiest ways to search for what you like is to browse by genre. After you log in (or create your free account), click on "Browse" in the upper left corner. In the "Browse" menu, World Cinema is pretty easy to find (see arrow below):
Click on it, and then you can search by region—this month, let's scroll down to view African Cinema:
Below are just a few examples of what you will find in Kanopy's African Cinema collection, coming from various regions and genres.  Click on the titles if you'd like to view them directly on Kanopy's website!
The descriptions below are from Kanopy:
Set in present day Ghana, Nakom follows Iddrisu, a talented medical student who is summoned home by his sister after their father's sudden death. Iddrisu reluctantly returns home to the village of Nakom, buries his father and temporarily assumes the head of the impoverished household and farm, inheriting not only the delicate task of planting a successful crop but also a debt left by the deceased patriarch that could destroy the family.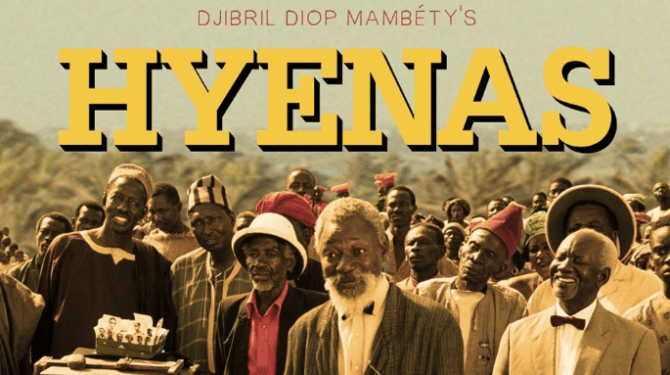 After being kicked out of her African village three decades earlier for getting pregnant out of wedlock, Linguere (Ami Diakhate) has returned home. While Linguere has done well for herself, her home village has fallen on hard economic times. Intent on punishing Dramaan (Mansour Diouf), the man who fathered her child but refused to own up to the act, Linguere makes a proposal: She will help the town financially, if the locals agree to execute Dramaan.
In her BAFTA award-winning debut feature, Rungano Nyoni crafts a satiric feminist fairy-tale set in present-day Zambia. When nine-year-old orphan Shula is accused of witchcraft, she is exiled to a witch camp run by Mr. Banda, a corrupt and inept government official.
As the only child witch, Shula quickly becomes a local star and the adults around her exploit her supposed powers for financial gain. Soon she is forced to make a difficult decision—whether to resign herself to life on the camp, or take a risk for freedom.
An ordinary day at a Zulu cultural village. Shaka, their star performer, expresses his frustrations to his co-workers as he sits on display for tourists. On this day he reaches the end of his tether and his protest takes on Shakespearian proportion.
In 1952, Ousmane Sembene, a dockworker and fifth-grade dropout from Senegal, began dreaming an impossible dream: to become the storyteller for a new Africa. SEMBENE! tells the unbelievable true story of the father of African cinema, the self-taught novelist and filmmaker who fought, against enormous odds, a fifty-year battle to return African stories to Africans.
SEMBENE! is told through the experiences of the man who knew him best, colleague and biographer Samba Gadjigo. A true-life epic, SEMBENE! follows an ordinary man who transforms himself into a fearless spokesperson for the marginalized, becoming a hero to millions.